What does the new Part O of the Building Regulations mean for a new home?
Reducing overheating – What the new Part O of the building regulations could mean for your new home.
The new Part O Building Regulation that deals with overheating in domestic dwellings and residential like commercial properties such as care homes and student accommodation was first published on 15th December 2021. The guidance surrounding this new Building Regulation is laid out within Approved Document O: Overheating.
When do the New Overheating Building Regulations come into Effect?
The changes to the building regulations came in effect  on the 15th June 2022. Any development that is subject to a building notice, has made a full plans application, or submitted an initial notice before this date will not have to comply with the overheating regulations, provided that the work is started on site before the 15th June 2023.
Which type of properties does it apply to?
Part O only applies to new dwellings and covers most residential buildings.
Conservatories on new residential buildings must also meet the requirements of Part O.
It does not apply to extensions or conservatories added to residential buildings after they are built, prior to 15 June 2022.
Is Part O Compliance Mandatory?
Yes, compliance is mandatory to demonstrate that provision has been made to remove excess indoor heat and limit unwanted solar gains during the summer months.
Requirement O1 of the Building Regulations.
Requirement O1 Overheating Mitigation of the Building Regulations states that dwellings, or other buildings containing rooms for residential purposes, should make reasonable provision to:
Limit unwanted solar gains in summer.
Provide an adequate means to remove heat from the indoor environment.
In meeting these obligations account must be taken of the safety of the occupants, mechanical cooling may also only be used where insufficient heat is capable of being removed from the indoor environment without it.
Compliance with this requirement can be shown by using one of the following two methods:
The Simplified Method, as set out within Section 1 of the Approved Document O.
The Dynamic Thermal Modelling Method, as set out within Section 2 of the Approved Document O.
The Simplified Method for Overheating Compliance
To carry out the simplified method the location of the development must first be determined as either 'moderate risk' or 'high risk':
'High Risk' Locations are parts of central London and some parts of Central Manchester. The Approved Document O provides post codes of areas of high risk within Appendix C.
'Moderate Risk' Locations are all the remaining areas in England not considered as 'High Risk'.
The development must then also be categorised as either having Cross-Ventilation or not.
NOTE – It is worth mentioning that openings on facades that are not opposites, such as a corner flat, does not meet the definition of cross-ventilation. Residential rooms within commercial developments should also be assessed individually.
Maximum Glazing Areas.
Depending on these two factors the Approved Document provides maximum glazing areas that are allowed based on orientation, this is to limit solar gains. An example table taken from the guidance can be seen below: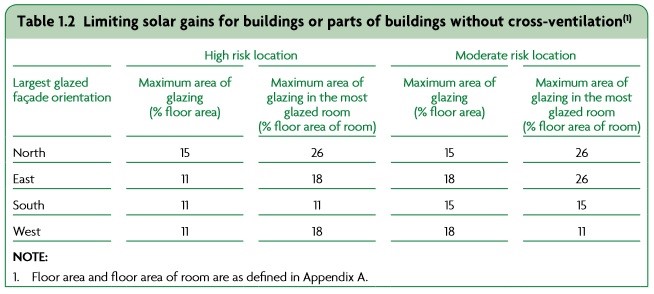 Residential buildings in high risk locations should also provide shading for east, south and west facing glazing by one of the following means:
External Shutters with means of ventilation
Glazing with a maximum G-Value of 0.4 and a minimum light transmittance of 0.7.
Overhangs with 50 degrees altitude cut-off on due south-facing facades only.
Minimum Opening Areas
To meet the removing excess heat part of regulation O1 the guide also provides tables showing what minimum free areas of openings required. An example table is shown below: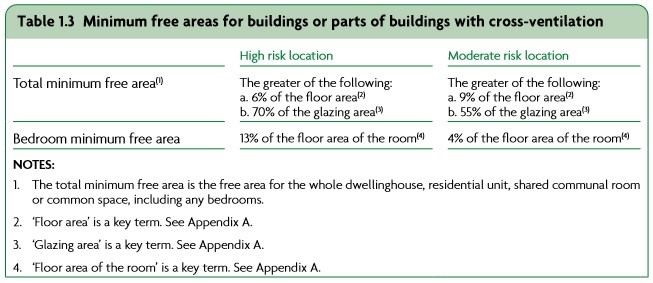 Provided a building is designed to these limits (depending on if it is moderate or high risk and has cross-ventilation or not) then it will satisfy the Simplified Method and demonstrate compliance with Part O of the Building Regulations.
The simplified method cannot be used in residential buildings that contain more than one unit and which have a significant amount of horizontal heating or hot water distribution pipe work.
The Dynamic Thermal Modelling Method for Overheating Compliance:
If the simplified method is too prescriptive and the building designer/architect would like to design a building outside of these limits, then the Dynamic Thermal Modelling method can be used as an alternative for showing compliance.
The Dynamic Thermal Model must undergo and satisfy a CIBSE TM59 overheating assessment. It should follow the methodology of CIBSE TM 59 whilst also allowing for some limits set out within the Approved Document. For example, the Approved Document states the internal temperatures that must be used to simulate when a window begins to open or close.
It also states the occupied hours to use during the day and night, and gives alternative guidance for ground floor windows that should be closed overnight for security purposes.
Limit Solar Gains:
The approved document also provides a list of ways to limit solar gains into a building that can be modelled, such as shutters, external blinds, or overhangs. Other ways it suggests limiting solar gains would be to alter the glazing design (size or G-Value), in the Building Design (Balconies), or through shading provided by surrounding buildings or landscapes.
NOTE – Although internal blinds or external foliage such as trees would also help to reduce solar gain, they should not be taken into account when considering whether the overheating requirement has been met.
Remove Excess Heat:
To remove excess heat from a building the approved document suggests either opening windows, installing ventilation louvres, a mechanical ventilation system, or a mechanical cooling system. Although, all passive means of removing excess heat from the building must be used as far as practically possible before the inclusion of a mechanical cooling (air-conditioning) system is used.
Planning your new home:
Using an experienced professionally qualified architect or architectural designer to help design your home, they'll help find functional and innovative solutions, and consider suitable façades and windows. Laurence Associates can help navigate through the new regulations to ensure your home meets the regulations for Part O, yet still deliver your dream home.
Our team at Laurence Associates are on hand to help with your vision and plan your new home, get in touch with our team today.